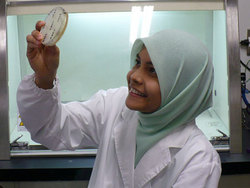 Ezzat Bt Mohd Azman
平成20年度 生命工学科 学部4年生
Biotechnology, a Famous Developing course
Since at Malaysia, I was very interested in Biotechnology because it is a famous developing course and has a bright future. Biotechnology is a technology based on biology, especially when used in agriculture, food science and medicine.
Study life in Japan made my life changed a lot. Although busy with lectures, examinations, reports and labs, I am very happy because I have a lot of friends and great lecturers.
Now I am finishing my final project titled "Streptomyces in the high temperature for food industries". The streptomyces were isolated from Rishiri Island and Iriomote Island, Japan and incubated at 50℃. Isolated microorganisms for examples streptomyces, Microbispora, Saccharamonospora etc produced enzymes which are high temperature tolerant and very useful in food industries.
After graduate, I'm planning to further my studies and be a lecturer in the future. I want to help my country to be good in Biotechnology as well as Japan.